Tommy's newly released recording, "Tommy Peoples: Recorded at Fiddler's Hearth", is available directly from this site.
It was recorded live during a 2005 performance at Fiddler's Hearth pub in South Bend, Indiana.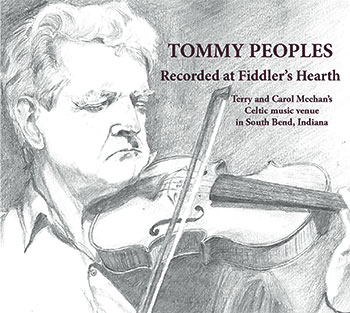 1) Reels – 1. Sheehan's, 2. The Hunter's House (E. Reavey), 3. Rakish Paddy 4:03
2) Jigs – 1. The Frieze Britches, 2. The Lark in the Morning 4:22
3) Slow Air & Hornpipe – 1. & 2. The Fairest Rose (T. Peoples) 4:23
4) Reels – 1. Pat McHugh's (T. Peoples), 2. Dowd's 3:07
5) Jigs – 1. The Humours of Ballyloughlin, 2. The Sporting Pitchfork 3:27
6) Highland or Strathspey & Hornpipe or Barndance – 1. Miss Crawford's, 2. The Japanese Hornpipe 2:20
7) Reels – 1. Kilty Town (C. Lennon), 2. Christmas Eve (T. Coen) 3:25
8) Reels – 1. Imelda Roland's (I. Roland), 2. I'm Waiting for You 2:48
9) Jigs – 1. The Pipe on the Hob, 2. Banish Misfortune, 3. Katie's Fancy 4:27
10) Hornpipes – 1. The Rumour (T. Peoples), 2. Memories of Clare (T. Peoples) 3:59
11) Jigs – 1. Dave and Dan's (T. Peoples), 2. Julia Devine's (T. Peoples) 3:58
12) Slow Tunes – 1. Hector The Hero (S. Skinner), 2. The Coffin Ships (T. Peoples) 4:55
13) Slip Jigs – 1. Give Us a Drink of Water, 2. Hardiman The Fiddler, 3. Heels Over Head (T. Peoples) 3:55
14) Reels – 1. The Boy in the Gap, 2. The Morning Thrush (J. Ennis), 3. The Maids of Castlebar 4:15
15) Reels – 1. Black Pat's (T. Peoples), 2. Gillian's Apples 3:22
16) Jigs – 1. The Ship in Full Sail, 2. The Blarney Pilgrim 2:10

---
Cost of the "Recorded at Fiddlers Hearth" CD plus postage:
U.S.A. &Rest of the World – €18.00
Ireland/Northern Ireland – €16.00
I got to hear of this recording from John Daly, a wonderful fiddle player. I last met him when he lived in Chicago, Illinois; he now lives in Carrick-on-Shannon, Co. Leitrim. The recording was made in South Bend, Indiana, in a pub owned by Terry and Carol Meehan called "Fiddler's Hearth". I played there twice, once in 2003 and again in 2005, both organised by David James. I had two delightful nights there amongst many musicians and music fans. David was no stranger to Clare. He got friendly with Michael Clancy, Kilmihil, who did his PhD at Notre Dame University near South Bend. They both played music and met at the local sessions. David became a visitor to Kilmihil and had many friends there, including Tom Finucane and his son Kevin, both fiddle players, and Tom Carey, concertina player. Sadly, both Toms have passed on, but Kevin, an excellent fiddle player, ably carries the tradition.
Tommy Peoples
Tommy's recording "The Quiet Glen"  is available directly from here.
"It's a beautiful album, full of lamentation and bright humour, with all the trademark stylistic touches." – The Irish Times
"Peoples' playing is as crisp and as mesmerizing as ever… The master at his best."  – Celtic Grooves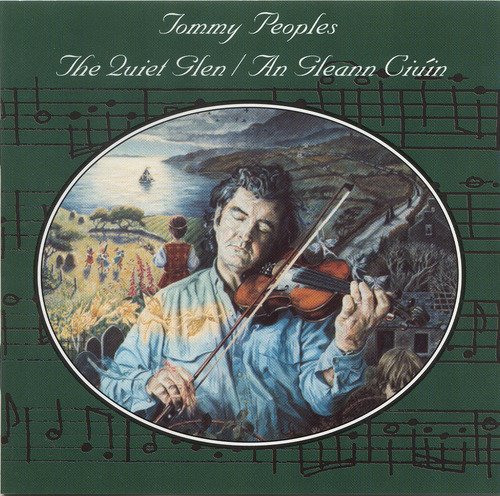 Cost of the "Quiet Glen" CD plus postage:
Rest of the World – €18.00
Ireland/Northern Ireland – €16.00
 Discography
(This isn't comprehensive: for a more complete listing, go to http://www.irishmusicreview.com/tpeoples.htm )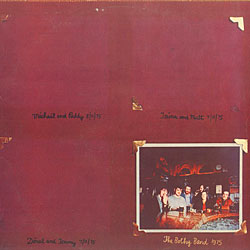 The Bothy Band (1975)
Although best known as a solo performer, Tommy's playing is central to the first and probably best album by this innovative group. A classic.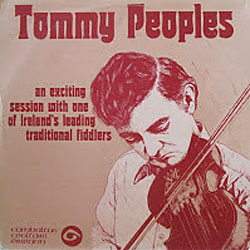 An Exciting Session with One of Ireland's Leading Traditional Fiddlers (1976)
Tommy's first commercial album, recorded live between October 1974 and January 1976, and issued by Comhaltas Ceoltóirí Éireann. Some really great playing, with fire and passion. Highlights include his playing of "The Green Hills of Tyrol" and "The Green Fields of Glentown", and a really fantastic performance of "Jenny's Welcome to Charlie".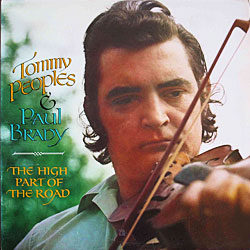 The High Part of the Road (1976)
Tommy is accompanied by renowned singer and guitar player Paul Brady. Some really passionate playing in evidence here.
A Mighty Session – Matt Molloy, Paul Brady and Tommy Peoples (1977)
This album features Tommy in duet with master flute player Matt Molloy, with energetic accompaniment by Paul Brady. Another classic.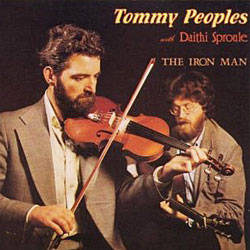 The Iron Man (1985).
Here, Tommy is accompanied by Derry man Dáithí Sproule. The title is from a Scott Skinner piece.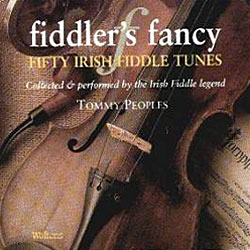 Fiddler's Fancy: Fifty Irish Fiddle Tunes Collected and Performed by the Irish Fiddle Legend (1986)
A commercial issue intended as a tutor, with accompaniment by Manus Lunny.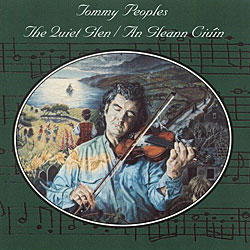 The Quiet Glen/An Gleann Ciuin (1998)
Recorded at home on a four-track tape recorder with Alph Duggan providing accompaniment, this album features Tommy's soulful playing of some of his beautiful original compositions. Unlike the other recordings, this album was issued by Tommy himself.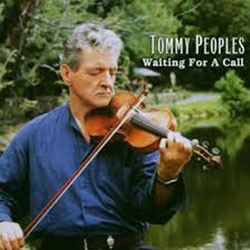 Waiting for a Call (2003)
This album mixes some older recordings from the 1980s with some more recent pieces.