Tommy's new CD "Recorded at Fiddler's Hearth" is available now to buy direct. See the Music page for full details.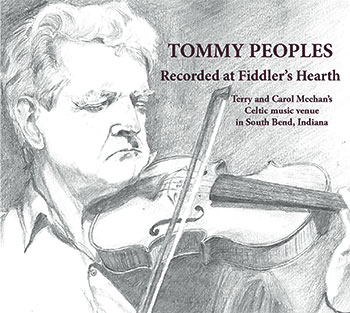 Cost of the "Recorded at Fiddlers Hearth" CD plus postage:
Rest of the World – €18.00
Ireland/Northern Ireland – €16.00
Last year Tommy published his book, Ó Am go hAm – From Time to Time: Tutor, Text and Tunes by Tommy Peoples.
The book is a fascinating 400-page compendium which includes a detailed fiddle tutor with notation and illustrations by Tommy, as well as a collection of 130 of Tommy's original compositions, again with notation by Tommy.
The book also includes insights into Tommy's life and musical journey through text which explains the titles of his compositions, accompanied by related images and photographs.
The book is now available directly from Tommy, who will personally sign each copy. The price is inclusive of postage. If more than one copy is ordered, please indicate by email to Tommy at tommypeoples@eircom.net the name of the person you would like each book signed to.
The book can be purchased using PayPal below and choosing the proper postal destination. If you would prefer to pay by cheque you can write to Tommy at:
Kinny Cally,
St. Johnston,
County Donegal,
Ireland.
Please be sure to make cheques payable to Tommy Peoples, and include your full postal address and email address.